Messages

2,397
Reaction score

10
Points

0
Source
Sick note: Faking illness online
Why would someone fake a serious illness online? Jenny Kleeman on the strange world of Münchausen by internet
Jenny Kleeman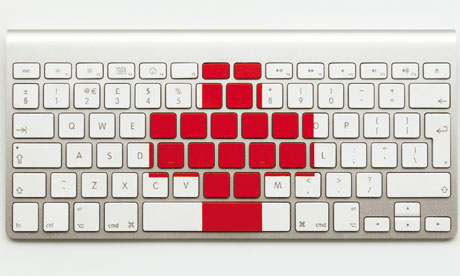 Keyboard abuse: 'It made me feel so good, spending time with people who cared for me, even if they didn't know I was a fake.' Photograph: Liz McBurney
Anyone following her updates online could see that Mandy Wilson had been having a terrible few years. She was diagnosed with leukaemia at 37, shortly after her husband abandoned her to bring up their five-year-old daughter and baby son on her own. Chemotherapy damaged her immune system, liver and heart so badly she eventually had a stroke and went into a coma. She spent weeks recovering in intensive care where nurses treated her roughly, leaving her covered in bruises.
Mandy was frightened and vulnerable, but she wasn't alone. As she suffered at home in Australia, women offered their support throughout America, Britain, New Zealand and Canada. She'd been posting on a website called
Connected Moms
, a paid online community for mothers, and its members were following every detail of her progress – through updates posted by Mandy herself, and also by Gemma, Sophie, Pete and Janet, Mandy's real-life friends, who'd pass on news whenever she was too weak. The virtual community rallied round through three painful years of surgeries, seizures and life-threatening infections. Until March this year, when one of them discovered Mandy wasn't sick at all. Gemma, Sophie, Pete and Janet had never existed. Mandy had made up the whole story.
Mandy is one of a growing number of people who pretend to suffer illness and trauma to get sympathy from online support groups. Think of
Tyler Durden
and
Marla Singer
in
Fight Club
, only these support groups are virtual, and the people deceived are real. From cancer forums to anorexia websites,
LiveJournal
to
Mumsnet
, trusting communities are falling victim to a new kind of online fraud, one in which people are scammed out of their time and emotion instead of their money. The fakers have nothing to gain from their lies – except attention.
These aren't just people with a sick sense of humour. Jokers want a quicker payoff than this kind of hoax could ever provide. It requires months of sophisticated research to develop and sustain a convincing story, as well as a team of fictitious personas to back up the web of deceit. Psychiatrists say the lengths to which people like Mandy are prepared to go mean their behaviour is pathological, a disorder rather than simply an act of spite. The irony is these people might actually be classed as ill – just not in the way they claim to be.
Some psychiatrists have started using the term
Münchausen by internet
(MBI) to describe this behaviour. Whereas
Münchausen syndrome
requires physically acting out symptoms to get attention from doctors, online scammers just have to be able to describe them convincingly. There's a potentially limitless audience of sympathetic ears, and success can be quantified by the number of concerned emails and message board posts generated by your lies. Some even go so far as to fake their own deaths, reading their own obituaries and observing the torrent of grief from the comfort of their living room. If they are rumbled – and they rarely are, conclusively – they just go to another support group, and to a fresh batch of trusting victims. The people they've fooled rarely find it so easy to move on.
No one suffered more from Mandy's lies than Dawn Mitchell, the 42-year-old Canadian who eventually exposed her. She became aware of Mandy's plight in 2007, when other mothers on the site signed off their posts urging for prayers and positive thoughts for their critically ill Australian member. "When you've got young children of your own, hearing about another mother who might leave her children motherless makes you more emotional."
She began providing the round-the-clock emotional support that Mandy craved. "I could spend an hour with her in the morning, a couple of hours in the afternoon, then I'd be up at night after the kids went to bed, sometimes until one o'clock. Instead of having a glass of wine with my husband in the evening, I was on the computer listening to Mandy talk about her latest infection," she says. "She was always on the verge of death. If I denied her and she died, then how would I feel?"
Please read the rest of the article here